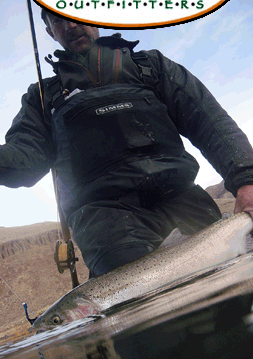 Fly Fishing the John Day River in Oregon for Steelhead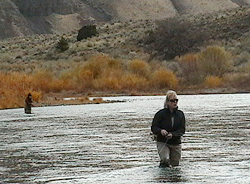 Running over 280 miles, the John Day River is the second longest free-flowing rivers in the United States. It is protected as a "Wild and Scenic" river under Oregon Scenic Waterways Act. The country is characterized by steep basalt canyon walls, juniper, and sagebrush dotted hills, abandoned homesteads, and petro glyphs. This is one of the most spectacular river corridors in the state with a wild run of summer Steelhead, considered one of the last true wild runs in the lower 48. November and December is prime time to fly-fish for these incredible fish. The John Day is personally one of my favorite rivers. Small and intimate with little pressure from other anglers, you will feel you have the river to yourself. This truly is a unique Steelhead experience.
The Steelhead run on the John Day doesn't really pick-up until the last week of October. Irrigation makes the water flow on the river very low. Irrigation shut off is October 1st.. It takes about 2 weeks for the flow to pick up and bring in a good push of fish. We get very fresh (bright) fish all the way through February.
We offer day trips and multi-day wilderness floats covering 45 miles of river in 5 days. If you fly in, schedule your flight for Portland, Oregon on the day before the launch date. Once in Portland you will need to rent a vehicle and meet us in Condon Oregon. We have three options for accommodations; Motel Condon: 541-384-2181, Hotel Condon: 800-201-6706 or the Wilson Ranch at (866) 763-2227.

Please email or give us a call for current rates.

Please contact us through our online form to offer comments or visit our flyfishing reports page to sign up to receive free flyfishing reports via email.

Little Creek Outfitters
PO BOX 549
Brightwood, Oregon 97011

WEB:
www.littlecreekoutfitters.net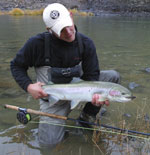 Notes from the field: 2009
October
Late October was perfect again for dry fly Steelhead. The last week of the month 4 anglers rose 12, hooked 7, and landed 4. Not bad for dry flies.
November
November like always produced some very fine Steelhead catch rates! Hot flies were classic hair wings, skaters, and leech patterns. Total anglers: 46 Total fish hooked:164 Total fish landed 92
December
Temperatures once again froze the river by December 5th. If the weather holds December can be a great month for Steelhead fishing. Feel free to give us a call about current conditions.